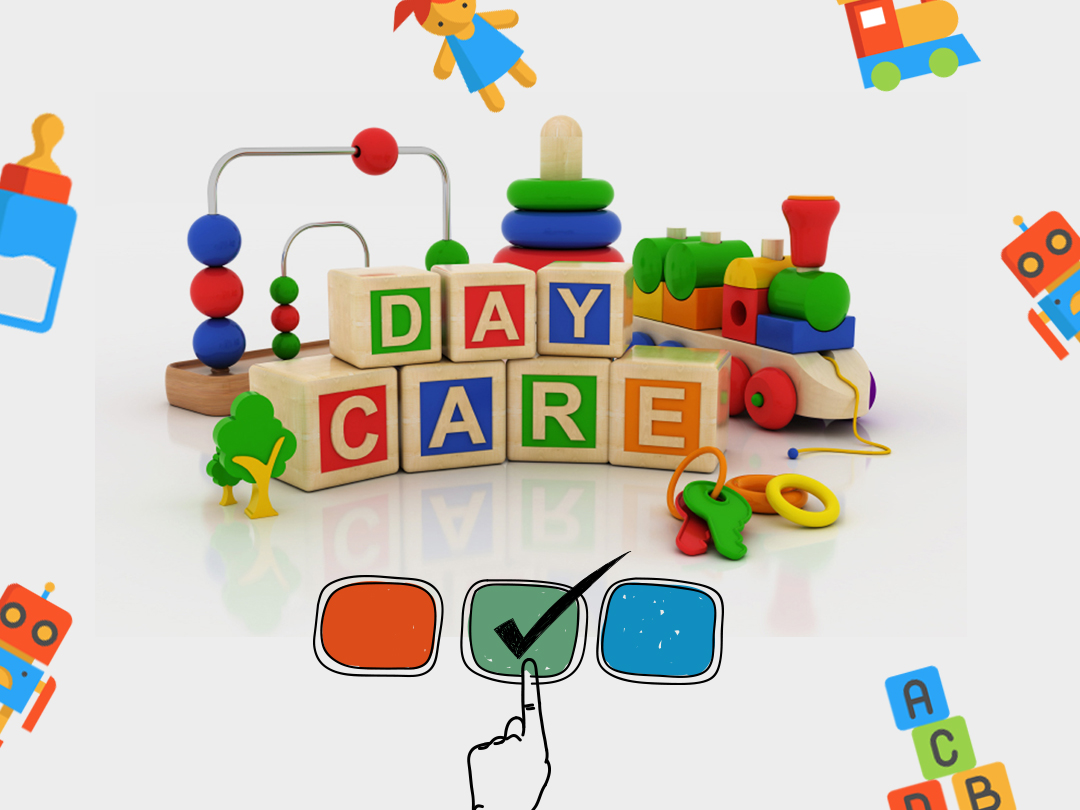 Selecting the right preschool and daycare for your kid is a daunting task. This is one decision where you don't want to be wrong as it's linked with the safety, well-being, growth and future of your child. Moreover, you want to get assured that your child is spending his/her time in a positive and nurturing environment.
Parents definitely go through a tough phase while selecting preschool and daycare; they browse the internet and also speak to other parents regarding their experience with daycare. You should make a list of daycare centers keeping in mind various factors like distance of daycare centre from your home, cost, infrastructure etc.
You need to take care of the below mentioned aspects while selecting a daycare for your kid:
Safety and Security of your child
Preschool safety is a major concern indeed!
Children are curious by nature. They want to explore each and everything round them. In such a scenario it is advisable for parents to opt for a school that can give complete assurance about safety of their kids. Kids want to play and are prone to injuries. Preschools and daycare centers must be fully equipped with required safety measures like soft cushions, vinyl flooring and door wrapping.
These days, most of the preschools and daycare centers have CCTVs so as to monitor each and every activity of children while they are in the premises. Parents can be able to track activities their kids and remain assured about their safety and security.
Keep your checklist ready:
Pick-up and drop guidelines
Presence of security guards
Presence of CCTV cameras
Are background checks done for staff
Curriculum
As per various research reports, an individual's brain is developed between birth to 5 years of age. Kids are extremely sensitive in this phase and they learn with the speed of lightening. Even the minutest of things and instances have a significant effect on their mental development. Being a parent, you would like to know whether the preschool has in-house curriculum or research based curriculum. As per common belief, childhood days in preschool or daycare are meant only for play and care. However, along with play and care, a research based curriculum too is required so that children are taught and developed too. You need to prepare a checklist for curriculum too. It can include questions like:
Focus is academic or development?
Quality of curriculum, is it up-to-date? 
What sort of training is provided to the teachers?
Meet the center director to gauge their passion and knowledge about education process
Cleanliness in the preschool/daycare
Every mother wants to send her kid in an atmosphere where cleanliness and hygiene are maintained. Young children are at greater risk of getting infections. You must ensure to visit the place and assess the cleanliness. Don't forget to walk through kitchen and washrooms as these are the areas where maximum cleanliness is required and difficult to maintain. Hygiene is a crucial aspect and you should never compromise when it's about hygiene for kids. 
Teacher Child Ratio
This is also a crucial aspect that needs to be considered. Even if a very good teacher is teaching your child, but the teacher-child ratio is not maintained, your child will not get personalized attention required for his/her development. A high teacher-child ratio is definitely a red flag. You also need to check if proper background check is done for staff and teachers. 
These are points that need your special attention. Moreover, taking your child once to the preschool/daycare with you is a great idea. You will get to know about the activities that your child find interesting. There are several benefits of daycare for your child and hence the need is to find the best place where your child can feel happy, remains safe and learns properly.
Once you are done with your research, you need to finalize the preschool/daycare for your child. Don't forget to trust your instincts about the vibrations in the school.